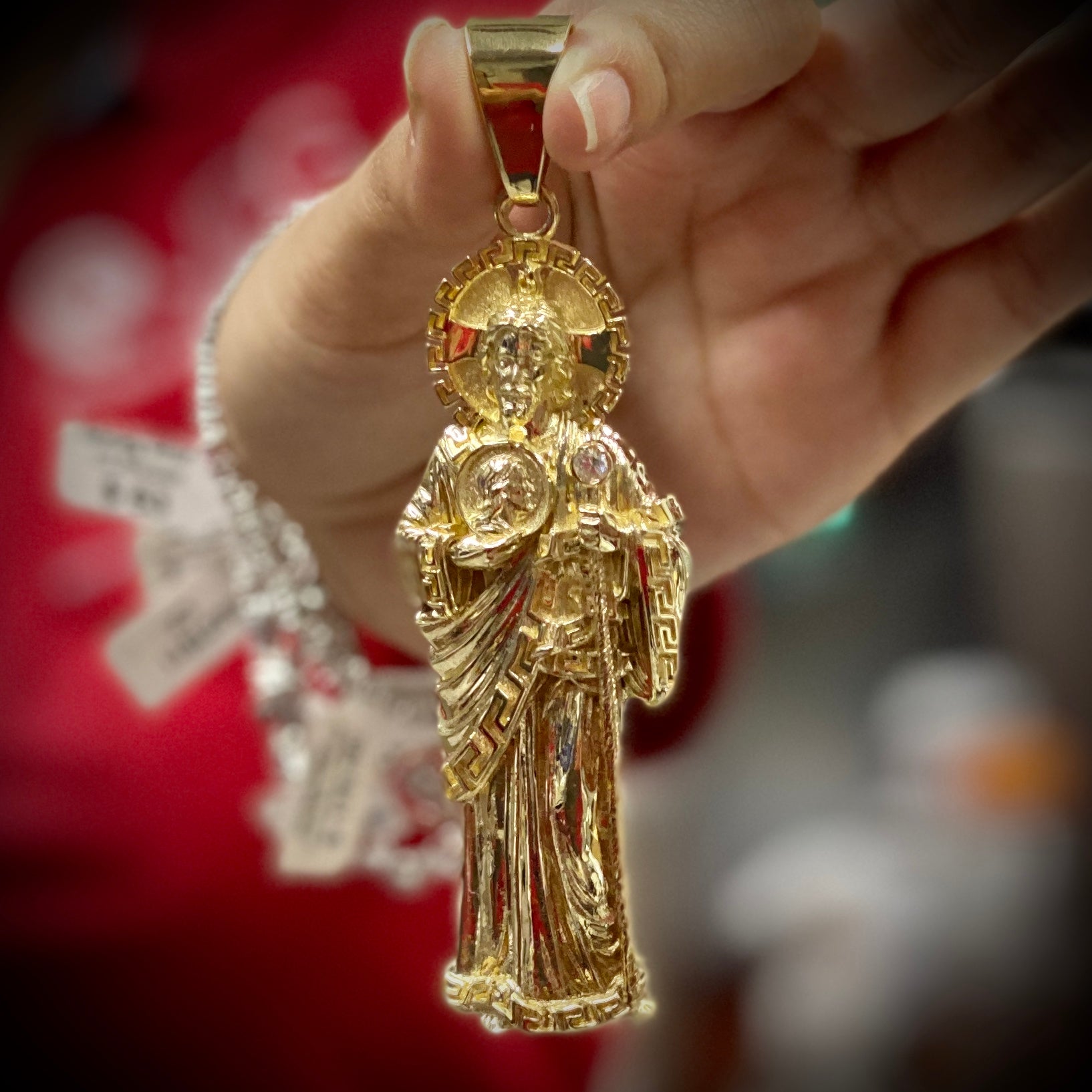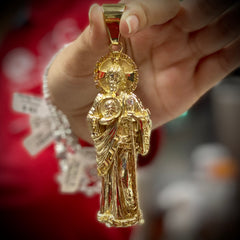 Dije San Judas con Grecas 3D Oro/Gold St. Jude with Greek Design Pendant
$4,250.00
Out of stock
Estrena tu dije de San Judas Tadeo 100% 3-Dimensional con diseño grecas con piedra zirconia. Esta pieza mide aproximado 4 pulgadas de alto con reaza, hecho a mano y con tu eleccion, 10KT o 14KT.  Debido a la cantidad de trabajo que lleva la pieza, esta lista dentro de 3-4 semanas. Cadena recomendable para el San Judas es 150gr o mas para que luzca mejor. Cadena se vende separada. 

-------------------- 

Wear your fully 3D St. Jude Thaddeus pendant with greek key design with a cubic zirconia. This handcrafted piece measures approximately 4 inches tall. Due to the amount of work this piece takes, it is estimated to be ready within 3-4 weeks. It is recommended to wear with a thick chain, preferably 150gr or more. Chain sold separately.
THOUSANDS OF SHIPPINGS TO ALL US
100% SAFE 100% INSURED
When you think free shipping is the best, we got your free INSURED shipping! For higher ticketed items, you must sign and show ID for your protection. Please note, custom pieces or adjustments might take up to three weeks due to high demand. We understand you want to wear your custom piece, but masterpieces take longer to be crafted. Once you're piece is ready to ship, you will receive a notification with your tracking number. Don't forget to tag us on social media once you receive it!
Customer satisfaction is our number one priority. If for any reason you are dissatisfied, we will gladly issue an exchange, or JDG Jewelers store credit for items returned. We recommend to check all sizes, measurements and details to ensure you are selecting the piece that goes perfect with you.
Disclosure: If one or more items in your order has an extended ship date, your loan payment(s), including interest, may be due before the merchant ships all of the items. Please note that you may not receive a rebate of any interest that may have already accrued on an amount that later gets refunded.