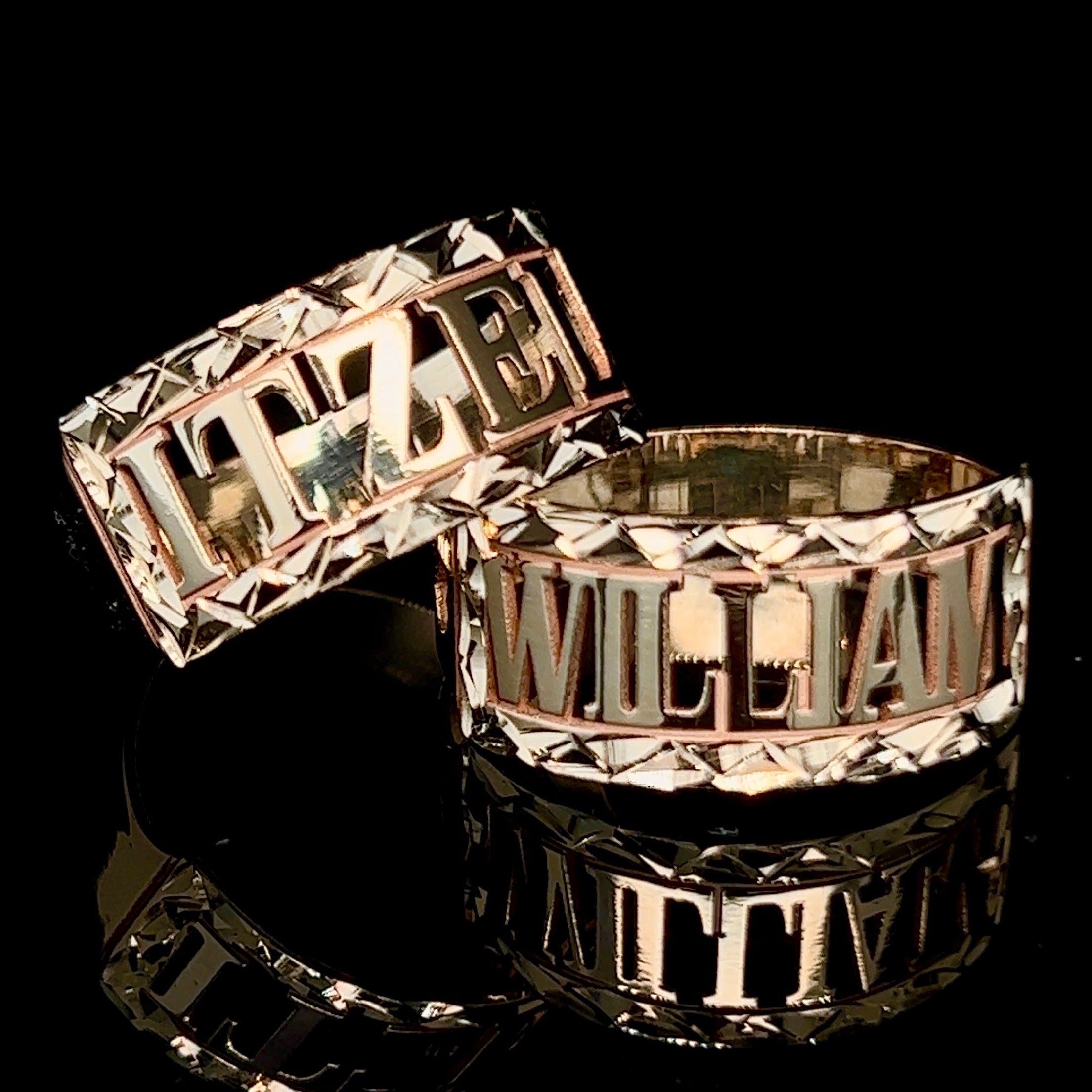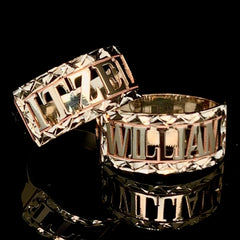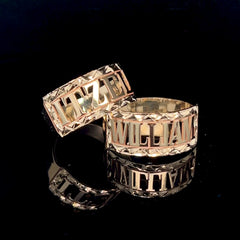 Set de Argollas con Nombre De Oro 10KT / Custom Name Wedding Band Set in 10KT
$799.00
Out of stock
Personalize your wedding bands with your names in these 10KT gold wedding bands with a diamond cut border sized to your fingers. The design has a height of 10mm in the front of the ring and narrows in the back for a more comfortable feel. The perforated hearts on each of the sides representing the couple wearing the bands. Please note, since it's a handcrafted ring, please allow up to 2-3 weeks for order to ship.
Personalice sus alianzas de boda con sus nombres en estas argollas de matrimonio de oro de 10 quilates con la orilla corte de diamante. El diseño tiene una altura de 10 mm en la parte delantera del anillo y se rebaja un poco en la parte trasera para más cómodidad. Los corazones perforados en cada uno de los lados representan a la pareja que usa las bandas. Tome en cuenta que, dado que es un anillo hecho a mano, el tiempo de fabricacion es de 2-3 semanas para que se envíe el pedido.
GOLD QUALITY

Calidad de Oro

10KT Gold

Oro 10KT

STONES

Piedras

 

Not applicable 

No aplica 

 
THOUSANDS OF SHIPPINGS TO ALL US
100% SAFE 100% INSURED
When you think free shipping is the best, we got your free INSURED shipping! For higher ticketed items, you must sign and show ID for your protection. Please note, custom pieces or adjustments might take up to three weeks due to high demand. We understand you want to wear your custom piece, but masterpieces take longer to be crafted. Once you're piece is ready to ship, you will receive a notification with your tracking number. Don't forget to tag us on social media once you receive it!
Customer satisfaction is our number one priority. If for any reason you are dissatisfied, we will gladly issue an exchange, or JDG Jewelers store credit for items returned. We recommend to check all sizes, measurements and details to ensure you are selecting the piece that goes perfect with you.
Disclosure: If one or more items in your order has an extended ship date, your loan payment(s), including interest, may be due before the merchant ships all of the items. Please note that you may not receive a rebate of any interest that may have already accrued on an amount that later gets refunded.